1080p UST GAMING PROJECTOR. 100-INCH IMAGE FROM ONLY 13 INCHES AWAY
1080p 3500 lumen ultra short throw projector with 25000:1 contrast ratio
BIG crisp 100-inch image from less than 13 inches away from mounted screen or wall
Perfect for gaming, watching TV, Blu-ray movies and sporting events
Extensive connectivity – dual HDMI, VGA- In, dual Audio-In and much more
3D Sync Port enables the ability to use Active RF 3D Glasses for increased depth and less eye fatigue
The Optoma GT5500+ is a Full HD 1080p ultra short throw projector for gaming, movies, and sports. At 3500 lumens along and with a 25000:1 contrast ratio, the GT5500+ creates bright and colorful images. Its ultra short throw lens projects a 100" image onto a wall mounted screen or other flat surface from only 13" inches away. As a result, specialty mounts are not needed and room placement is no longer an issue. With the GT5500+, simply place and play.
Experience big-screen gaming with vivid colors and impressive black levels while playing the latest titles on Xbox One, PS4, and personal computers. Challenge opposing players online in glorious 1080p with 100% field of view and often without the need to zoom before engaging. BIG screen gaming literally changes how you play the game.
Bring the cinema home by watching Blu-ray movies on the GT5500+ for true big screen entertainment. In addition, football, basketball, baseball, and other sports come to life with amazing color, brightness and detail.
Ultra short throw
With an ultra-short throw lens, you can project an impressive 100″ image from just 30cm away. This allows you to place the projector closer to the wall and removes the need for lengthy cables, simplifies setup and reduces installation time.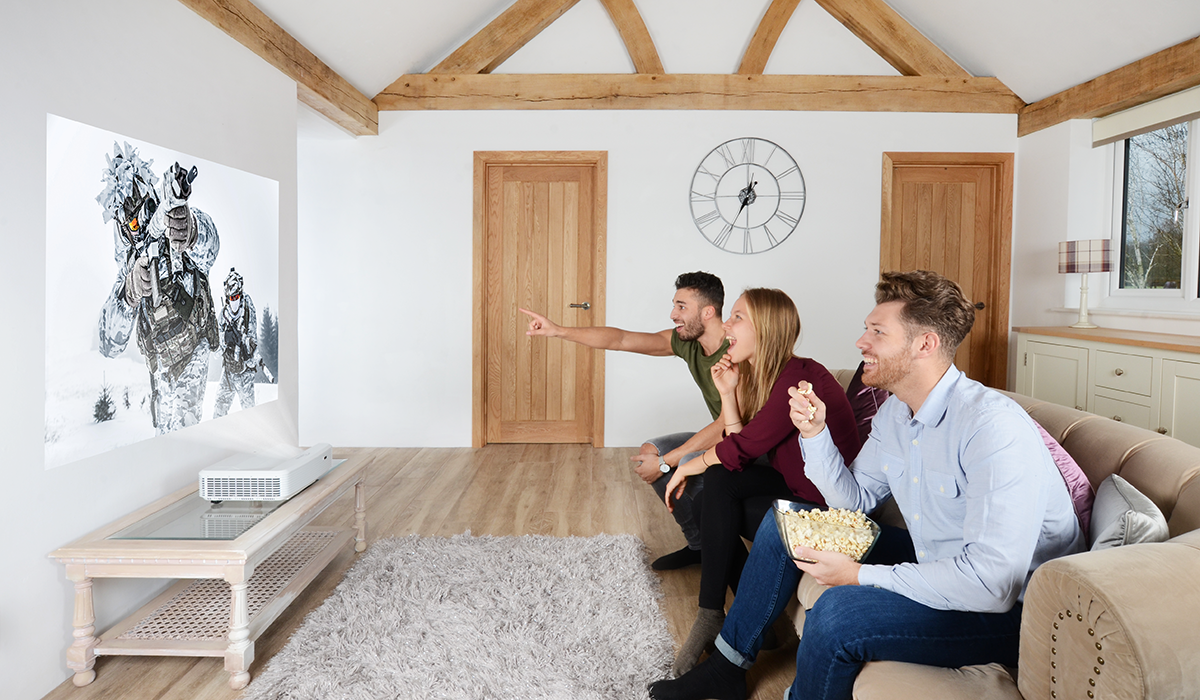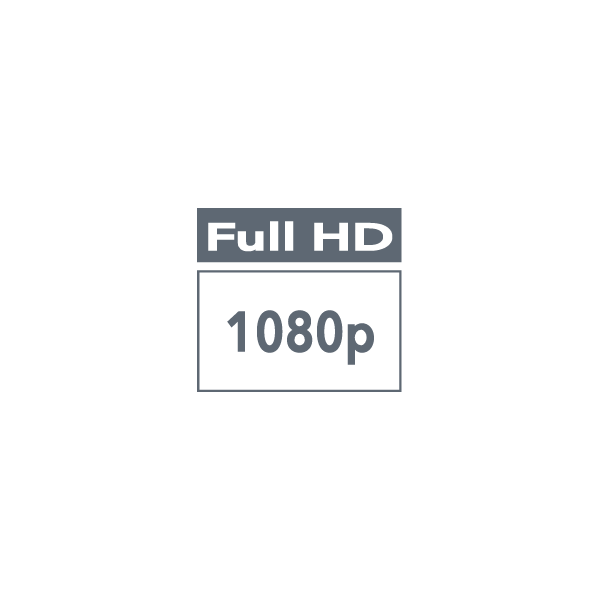 Full HD 1080p
1080p resolution gives you sharp and detailed images from HD content without downscaling or compression; perfect for watching Blu-ray movies, HD broadcasting and playing video games.
Full 3D
Optoma projectors can display true 3D content from almost any 3D source, including 3D Blu-ray players, 3D broadcasting and the latest generation games consoles.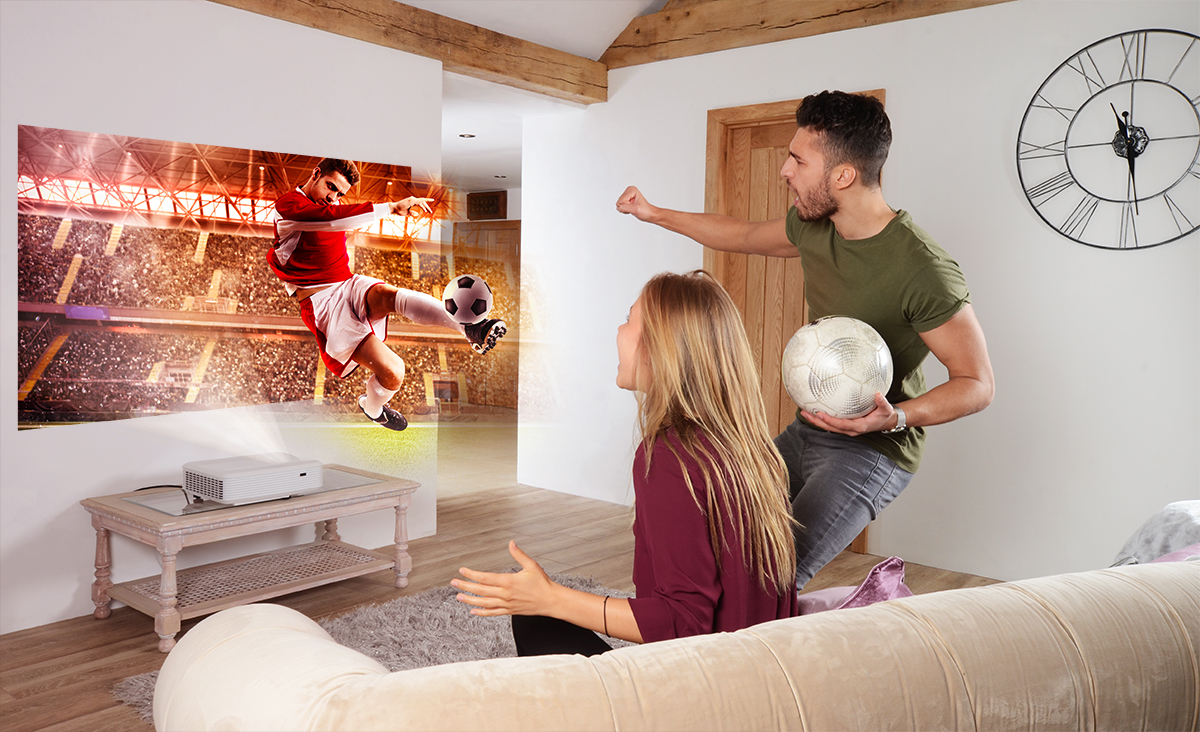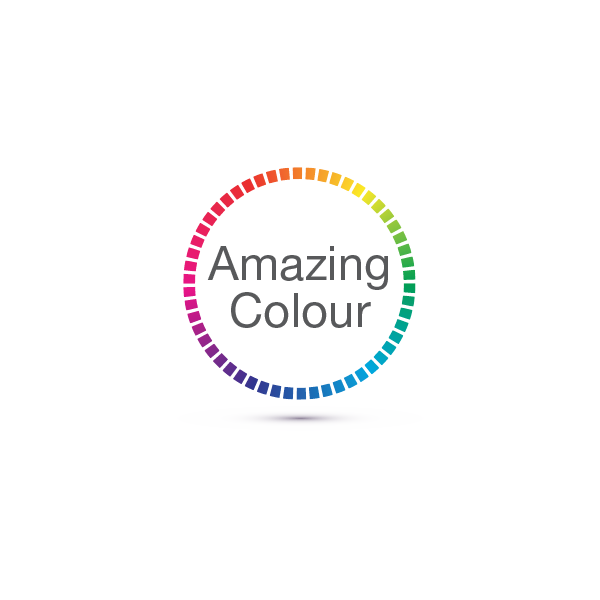 Amazing colors
Watch your movies, TV shows and play games with stunning colors in any environment. Optoma projectors provides you with reliable performance suitable for any content and environment. Our home projectors are capable of reproducing the Rec.709 color gamut, the international HDTV standard to guarantee accurate reproduction of cinematic color exactly as the director intended. Or more saturated colors for a punchy looking image, great for gaming and animated movies.
High contrast
Add more depth to your image with a high contrast projector; with brighter whites and ultra-rich blacks, images come alive and text appears crisp and clear – ideal for business and education applications.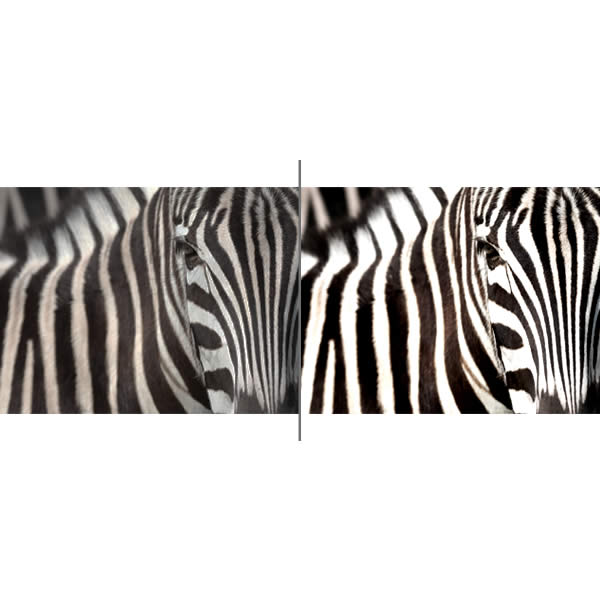 Gaming mode
Gaming mode optimizes your projector for lightning response times, maximum contrast and vivid colors to capture every detail – leaving you time to focus on winning.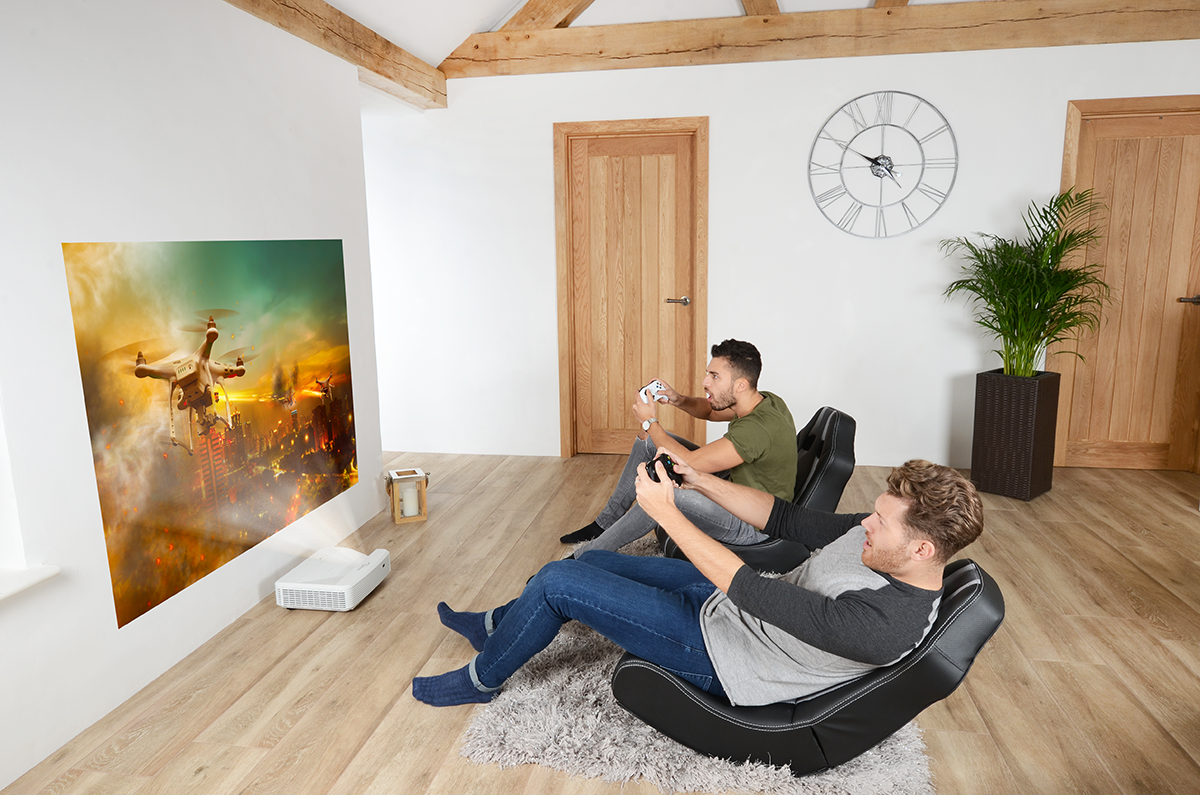 Integrated speaker
Complete your home entertainment experience with the convenience of a powerful built-in speaker. Built-in speakers provide exceptional sound quality and are easy to set up without the need for costly external speakers.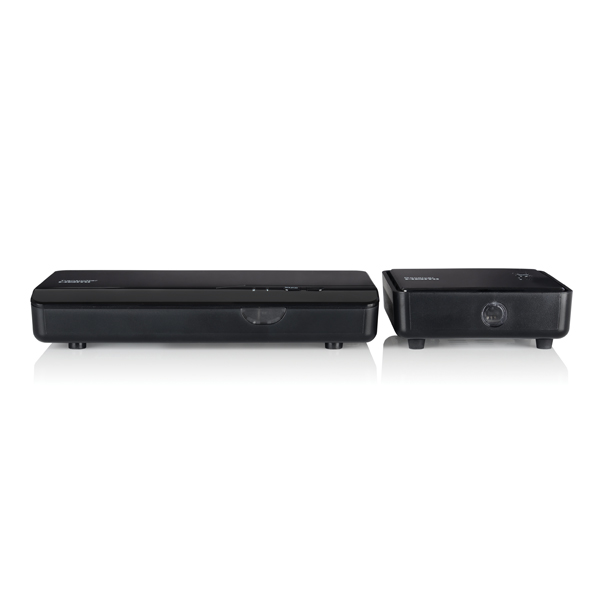 Wireless
Stream Full 1080p 3D content to your projector wirelessly; eliminating the hassle and extra cost of installing long cables, the WHD200 (sold separately) allows you to connect a Blu-ray™ player, set-top box, gaming console or AV receiver instantly.
24p
Most movies are shot at 24 frames per second (fps). To preserve the purity of the original image, Optoma projectors can accept high definition sources at 24 fps to display movies exactly as the director intended.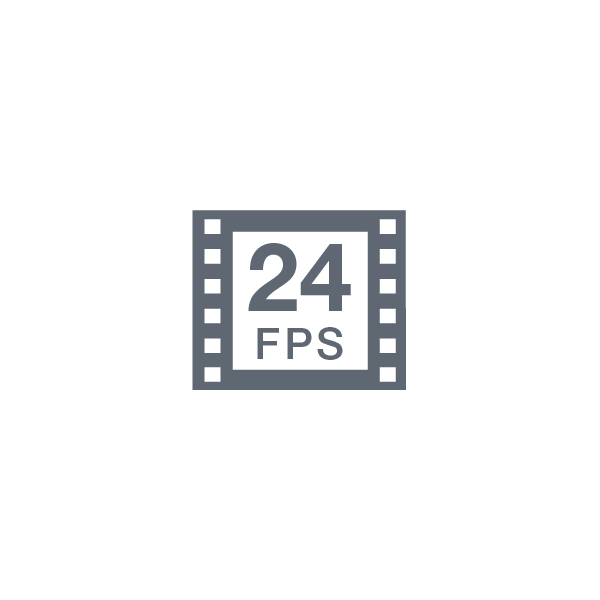 Long lamp life
The expected lifetime of a typical Optoma projector lamp is an impressive 6500 hours; so if you watch a two hour movie every day, the lamp should last for almost 9 years.
USB power
Use the USB-Power to power an HDMI dongle, such as Google Chromecast or the Optoma WHD200 wireless HDMI device.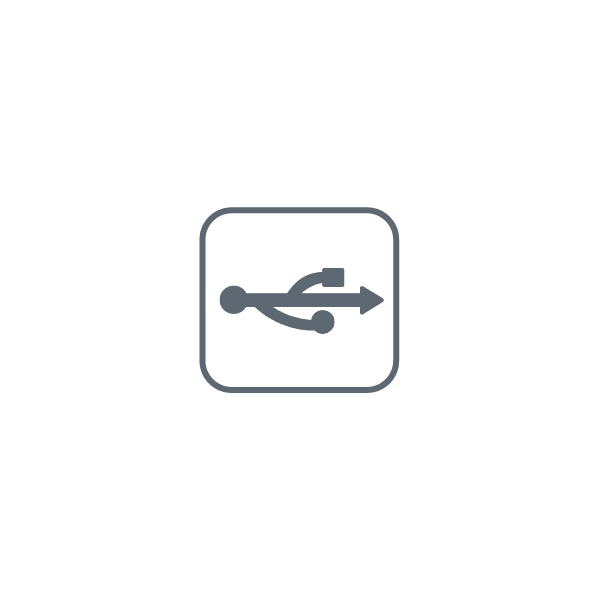 Quick resume
This feature allows the projector to be instantly powered on again, if it is accidentally switched off.
Auto power off
There may be instances when the projector is left running when not in use. To help save energy, the "Auto Power Off" feature automatically turns off the projector after a set period of time if it is not being used
Networking and control
Featuring a wide range of options you can remotely control and monitor the projector.
| | |
| --- | --- |
| Display Technology | Single 0.65" DC3 DMD DLP® Technology by Texas Instruments™ |
| Native Resolution | 1080p 1920 x 1080 |
| Brightness | 3500 Lumens |
| Contrast Ratio | 25000:1 |
| Lamp Life2 | (hrs) |
| Throw Ratio 3 | 0.25:1 (distance/width), ±5% Variance |
| Zoom Type | Fixed Zoom |
| I/O Connectors | 2x HDMI (1.4a 3D support), 3D-Sync Port Out, VGA1-In (YPbPr/RGB), VGA2-In/VGA-Out (shared), Composite Video, Audio1-In (analog RCA), Audio2-In (3.5 mm), Audio-Out (3.5 mm), RJ45, RS-232C, mini USB (remote mouse/service, 12V trigger, Mic, USB-A (power) |
| Speaker (Watts) | One 16-Watt speaker |
| Audio | One 16-Watt speaker |
| Keystone Correction | ±40° Vertical |
| Weight | 10.69 lb (4.85 kg) |
| Dimensions (W x H x D) | 15.15″ x 12.20″ x 4.72″ (385 x 310 x 120mm) |
| Aspect Ratio | 16:9, 4:3, 16:10 (LBX, Native, Auto) |
| Offset | 118% |
| Projection Screen Size | 80″–100″ (2.03–2.54 m) Diagonal 16:9 |
| Projection Distance | 17.7″– 22.1″ (0.45–0.56 m) |
| Projection Lens | F/2.4; f=3.72 mm, Fixed Zoom |
| Uniformity | >85% |
| Maximum Resolution | WUXGA (1920 x 1200) |
| Computer Compatibility | WUXGA, UXGA, SXGA, WXGA, HD, XGA, SVGA,VGA, SVGA, VGA, Mac |
| Video Compatibility | PAL (B, D, G, H, I, M, N, 576i/p), NTSC (M, 4.43/3.58 MHz, 480i/p), SECAM (B, D, G, K, K1, L) HD (1080i, 720p) |
| 3D Support |   |
| 3D Compatibility | Supports all HDMI 1.4a mandatory 3D formats (Frame pack, side-by-side, top-bottom) and up converts frame rate from 60Hz to 120Hz or 24Hz to 144Hz (i.e 60 or 72 frames per eye). 3D glasses are needed and are sold separately. Refer to user manual for details. |
| Horizontal Scan Rate | 15.3–91.1kHz |
| Vertical Scan Rate | 24–85Hz (120Hz for 3D) |
| Displayable Colors | 1.07 Billion |
| Noise Level (Eco mode) | Min 29dB–Max 36dB |
| Power Supply | AC Input 100–240V, 50–60Hz, auto-switching |
| Power Consumption | Bright 320W Typical, 350W Max / ECO+ 270W Typical, 300W Max |
| Operating Conditions | Operating Temp @ Sea Level to 10000 feet = 73F (max); MUST manually switch to high altitude mode @ 5000 feet & above (using OSD) to maintain optimal functionality. |
| Operating Temperature | 41–104°F (5–40°C), 85% max humidity |
| Security | Kensington® lock, security bar and keypad lock |
| Remote Control | IR remote |
| Standard Accessories | GT5500+ projector, AC power cord, VGA cable, USB cable, remote control, batteries, quick start card, CD user manual |
| Optional Accessories | Component to VGA cable, DLP® Link™ 3D glasses, RF 3D glasses, RF 3D emitter, Wireless HDMI Solution |
| Optional Wireless | No |
| Video | PAL (B, D, G, H, I, M, N, 576i/p), NTSC (M, 4.43/3.58 MHz, 480i/p), SECAM (B, D, G, K, K1, L) HD (1080i, 720p) |
| Projection method | Front, rear, ceiling mount, table top |
| Warranty | 1-Year Limited Parts and Labor, 90-Days on Lamp |








June 2017

"Is the Optoma GT5500+ a good projector for gaming? Absolutely. But gaming isn't the only thing that it can do. What makes this projector good isn't some magical technology that only applies to gaming. They simply didn't cut any corners. The bulb is incredibly bright, there is a plethora of connections available, and the image is deep, rich, and vivid."